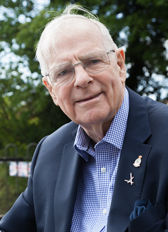 Geoffrey Pidgeon, author of must reads "The Secret Wireless War – The story of MI6 Communications from 1939 – 1945" and "Edgar Harrison – Soldier, Patriot and Ultra Wireless Operator to Winston Churchill", published over the years his SCU-Newsletter, full of articles containing inside information and personal stories from him and others, working for SOE and related organisations. Very interesting for everybody, interested in WW2 spying business.
The SCU-Newsletter may be freely copied and passed to other interested people or organisations, be it as long as the content is not altered.
Below you find the list of PDF's, currently available on www.paraset.nl.
Each item is a link and will show the content of that PDF-file on your computer, in a new tab. There you can read it, but moving the mouse top right, you will find icons that allows you to really download the article or to print it.

SCU-Newsletters don't come regular, this explains why some years there are more than other years. With some SCU-Newsletters came attachments, those are of the same date, but have a character behind the date.

Enjoy reading!
(re-found files inserted: March, 14 2019)
Papers.pdf
2009-4 SCU.pdf
2010-1-A SCU 1_10.pdf
2010-1-B SCU Ray Small's diary.pdf
2010-1-C SCU OSCAR.pdf
2010-1-D SCU 3-RSS.pdf
2010-2-A SCU 2-10.pdf
2010-2-B ARRL June.pdf
2010-3 SCU 3-10.pdf
2010-4 SCU 4-10.pdf
2011-1 SCU 1-11.pdf
2011-2-A SCU 2-11.pdf
2011-2-B Mémoire – Mona de Witte M2.pdf
2011-3 SCU 3-11.pdf
2011-4 SCU 4-11.pdf
2012-1 SCU 1-12.pdf
2012-2 SCU 2-12.pdf
2012-3 SCU 3-12.pdf
2012-4 SCU 4-12.pdf
2013-1 SCU 1-13.pdf
2013-2 SCU 2-13.pdf
2013-3 SCU 3-13.pdf
2014-1 SCU 1-14.pdf
2015-1 SCU 1-15.pdf
2015-2 SCU 2-15.pdf
2015-3 SCU 3-15.pdf
2015-4 SCU 4-15.pdf
2015-8-18 Tuesday.pdf
2016-1 SCU 1-16.pdf
2016-2-A SCU 2-16.pdf
2016-2-B The Patton PDF.pdf
2016-2-C The 007.jpg
2016-3-A SCU 3-16.pdf
2016-3-B SCU Blackford.pdf
2016-4 SCU 4-16.pdf
2016-5 SCU 5-16.pdf
2016-6 SCU 6-16.pdf
2017-1 SCU 1-17.pdf
2017-2 SCU 2-17.pdf
2018-1 SCU 1-18.pdf
2018-2 SCU 2-18.pdf
2018-3 SCU 3-18.pdf
2019-1 SCU 1-19.pdf
2019-2 SCU 2-19.pdf
2019-3 SNW 3-19.pdf
2019-4 SCU 4-19.pdf
2019-5 SCU 5-19.pdf
2020-1 SCU 1-20 .pdf
2020-1-A SCU 2-13 Packards .pdf
2020-1-B SCU 1-20 final.pdf
2020-2 SCU 2-20 Final 6-7-20.pdf
2020-3 SCU snw 3-20 Final .pdf